Covid-19: health measures
Your safety is at the heart of our concerns.
In the context of the health crisis we are currently experiencing, we are implementing exceptional measures.
We update this page regularly to show you the latest government conditions in force.
Please check this page before your flight.
Health pass
The Health Pass is mandatory on board for all persons over 12 years and 2 months old.
Since the November, 29, 2021, you have to be able to prove either: 
A negative RT-PCR test or antigenic test less than 24 hours old before departure

A

certificate of complete vaccination

(2nd injection of vaccine dated at least one week ago)
For people aged 65 and over, a booster vaccination is necessary to keep a valid health pass.
The Health Pass must be presented in paper or digital format (via the TousAntiCovid app).
For more information, visit the government website.
Prior to your flight
In order to ensure your well-being and the well-being of the other travellers, we encourage you not to travel in case you have any of the following symptoms: fever, cough, breathing difficulties, muscle pain, tiredness and shortness of breath.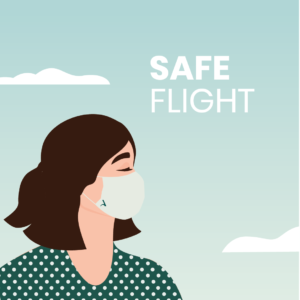 Global prevention instructions
We encourage all our passengers to follow the global prevention instructions:
Observe physical distancing (1.5 metres) where ever possible
Wash your hands regularly for at least 20 secs with soap and water or, where not available, use alcohol-based hand sanitising solutions
Cover your mouth and nose with your flexed elbow or use a disposable tissue when sneezing or coughing
Avoid touching your face, eyes, nose and mouth
Limit direct contact with surfaces and close contact with people


At the airport
During your flight