Covid-19: health measures
Your safety is at the heart of our concerns.
In the context of the health crisis we are currently experiencing, we are implementing exceptional measures.
Health pass
Since the August, 9, 2021, the Health Pass is mandatory on board for all adults.
You have to be able to prove either: 
A negative RT-PCR test or antigenic test less than 72 hours old before departure
The result of a positive RT-PCR or antigenic test result attesting to the recovery of Covid-19, dated at least 11 days and less than 6 months ago.
A certificate of complete vaccination (2nd injection of vaccine dated at least one week ago)
The Health Pass must be presented in paper or digital format (via the TousAntiCovid app).
Not concerned: Minors, whether accompanied or not, are exempt from presenting this Health Pass until 30 September inclusive.
Prior to your flight
In order to ensure your well-being and the well-being of the other travellers, we encourage you not to travel in case you have any of the following symptoms: fever, cough, breathing difficulties, muscle pain, tiredness and shortness of breath.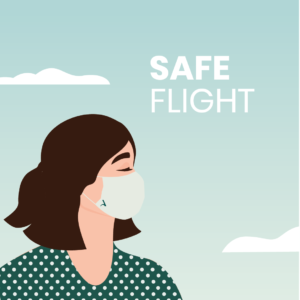 Global prevention instructions
We encourage all our passengers to follow the global prevention instructions:
Observe physical distancing (1.5 metres) where ever possible
Wash your hands regularly for at least 20 secs with soap and water or, where not available, use alcohol-based hand sanitising solutions
Cover your mouth and nose with your flexed elbow or use a disposable tissue when sneezing or coughing
Avoid touching your face, eyes, nose and mouth
Limit direct contact with surfaces and close contact with people
Brive – Ajaccio flights
From 9 June 2021, people over 11 years of age travelling to Corsica must be in possession of:
Either the result of a PCR test less than 72 hours before the trip or an antigenic test less than 48 hours. The only antigenic tests that can be validly presented are those allowing the detection of the N protein of SARS-CoV-2; self-tests are not accepted for travel.
Either a proof of vaccination status (full vaccination).
And a declaration on honor attesting that you have no symptoms. You can download it by clicking on this link.
Plan to arrive at the airport early, as your health pass will be checked. Other measures related to the health situation may also extend your travel time 
At the airport
During your flight