Only one piece of hand baggage and one accessory are allowed in the cabin. The maximum dimensions of your baggage must not exceed H 55 x W 35 x D 25 cm per passenger. The weight of your baggage must not exceed 10kg. 
The accessory may be a handbag, briefcase, camera, laptop computer, or an item smaller than the dimensions given above. 
The total weight of your cabin baggage and the accessory must not exceed 12kg.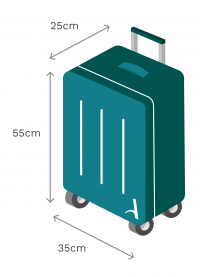 Number of checked baggage items
The number of checked baggage items you can transport free of charge depends on your fare and cannot exceed 3 per person per flight. Your baggage information is displayed when you choose your flights. 
Checked baggage size and weight
Checked baggage items must not exceed the dimensions: height + width + depth (including wheels and handles) = 158 cm maximum.
The maximum weight allowed per checked baggage item is 23 kg.
Please note that infants not occupying a seat are allowed one 10 kg checked baggage item.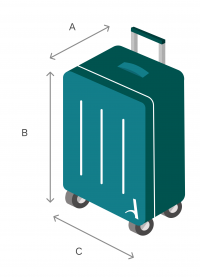 In order to protect the health of the staff, we kindly ask you to limit or split the weight of your luggage and to choose luggage easily graspable (with handles). 
Ungraspable/"ball" luggage and luggage exceeding 23 kg will only be accepted in exceptional cases and will be subject to a fare adjustment.
The second checked baggage item (23 kg) is charged 45€ if you book in advance, or 60€ at the airport. 
If you are travelling with several additional baggages, please contact us (+33 1 83 62 95 00 / book@flyamelia.com)
Bulky baggage should not exceed 300 cm. They are charged 40€, only at the airport.
If the weight of your checked baggage exceeds the weight included in your fare, but does not exceed 32 kg, you will have to pay an airport surcharge of 70€. 
Prohibited items
All prohibited and regulated items are listed on the French Civil Aviation Authority's Airbag application.
Sports equipement
Musical instruments
Extra seats
Connecting flights
Exceptions